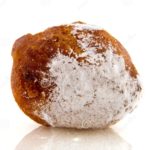 Vandaag vloog ik uit de bocht. Eerst reed ik bijna tegen een witte Volvo aan toen ik een bocht nam op een polderweggetje.
Ik had haar niet zien aankomen en dat was raar; ik had net nog naar een paar gekke koeien gekeken in de wei. En ik vond dat die drie wel bevoorrecht waren ten opzichte van de andere honderd die door de open schuifdeur van de schuur achter een hek dommig stonden toe te kijken. Ik vroeg me af of ze gevoelens van afgunst kenden.
Mijn mobieltje lag netjes in autovakje. Ik was aan het meezingen met de Black Eyed Peas. Dat vloog allemaal door mijn hoofd toen ik uit het niks die witte 4Wheel Volvo door de bocht zag komen.
Remmen piepten, de ABS deed zijn werk. Onze witte bumpers kusten elkaar bijna, haar ogen schoten vuur. Ik wachtte met verkrampte vingers rond het stuur op de klap die gelukkig uitbleef.
Ik deed mijn raampje open om me te verontschuldigen maar liet haar eerst even ontploffen.
"Waar zat u met uw gedachten?" vroeg ze boos. "Als u niet bij de les bent moet u de auto laten staan". Toen ze wegreed bleef ik nog even met een kloppend hart en draaiende motor stilstaan. Wat was hier gebeurd? Ik was goed geschrokken en dankte God dat de vrouw in een dikke Volvo reed met een nog beter remsysteem dan mijn auto. Ofwel was zij supersnel aan komen scheuren of ik had een blackout. Het gebeurde in een splitsecond. Toch bleef het me bezighouden maar ik zette het van me af om verdere ongelukken te voorkomen. Gelukkig heb ik volgende week vakantie.
De dag verliep verder goed, een leuk interview met een raadslid in een voetbalkantine.  En daarna de nodige zaterdagboodschappen. Daar vloog ik opnieuw uit de bocht. Het was tegen vier uur en ik had na het ontbijt niks meer op, op de bittere zwarte kantinekoffie na.
Heerlijke geuren kwamen uit het oliebollenkraampje bij de ingang van het winkelcentrum. Mijn maag rammelde alsof hij mijn neus wilde steunen. Met twee volle boodschappenkratjes van Albert Heijn kwam ik opnieuw voorbij de oliebollenkraam. Mijn benen stopten. "Wat is er lekker warm?" vroeg ik aan de verkoopster. "De gewone oliebollen", zei ze. 'Oké, dan wil ik er eentje graag alstublieft" zei ik. "Eentje maar?" Ze stond al met een grote witte lege zak in haar handen.
"Ja eentje, want het is eigenlijk niet goed voor me."
Haar echtgenoot met een buik waar al veel oliebollen in verdwenen waren, stopte een oliebol in de magnetron. "Suiker?" vroeg hij. Ik knikte en legde een tientje op de glasplaat. "Betaal de volgende keer maar" zei hij met vette knipoog terwijl zijn ogen hongerig naar mijn voorgevel gleden. Ik wilde geen volgende keer, diepte 70 cent op uit mijn broekzak en legde die op de glasplaat, 10 cent te weinig maar meer had ik niet over voor een kleffe oliebol uit de magnetron. Vastenavond voor mijn vandaag.