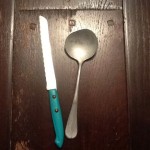 Mijn besteklade is een allegaartje. De standaard plastic verdeelbak paste er niet in dus zijn het losse kistjes van Ikea geworden. Keurig liggen de lepels bij de lepels, de vorken bij de vorken en de messen bij de messen. Alleen is niet iedere lepel of mes hetzelfde.
Ooit heb ik bij de Hema een 9-delig bestek gekocht maar daarvan is al een mes en vork vuilnisbak verdwenen samen met een overgebleven prakje op het bord. Er liggen ook dierbare herinneringen in mijn besteklade. Deze mogen absoluut niet in de vaatwasser en niemand mag ze gebruiken, alleen ik.
Een kromme lepel, daterend uit de eerste wereldoorlog en gemaakt van heel licht materiaal, zilverkleurig maar beslist niet van zilver of roestvrijstaal. De lepel is van mijn opa geweest en hij heeft er jarenlang alles mee gegeten, soep, pap maar ook zijn aardappelen. Later gebruikte mijn oma deze lepel om een schep beslag in het vet te laten vloeien met oudjaar als ze haar heerlijke oliebollen bakte.
Een ander geliefd voorwerp is een gekarteld mes met mintgroen handvat, hier at mijn oma altijd mee. Ze had er zes, in verschillende kleuren maar zij nam altijd het groene en ik heb het gepikt toen de erfenis werd verdeeld. Tot slot nog wat onderdelen uit een eerdere relatie, niet uit sentiment maar omdat ik simpelweg niet van verspillen houd.
Social tagging:
bestek
>
herinneringen
>
lepel
>
mes