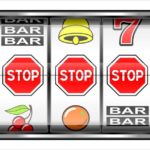 Een jaar geleden schreef ik mijn eerste De maat is VOL blog. Mijn BMI was morbide, een goede vriendin was ernstig ziek, niets kon haar redden en ik, ik had mijn eigen leven in handen en kon het tij nog keren. Bij mij is het al een jaar lang vijf over twaalf!
Goede voornemens, beloftes aan mijn vriendin, periodes van niet snoepen, gestopt met suiker in koffie.  Blog 2, 3 t/m 6 volgenden. Enkele kilo's eraf, maar dan na de vakantie of feestdagen er weer twee bij. Vol goede moed schreef ik in blog 7 over mijn start bij Weight Watchers Online, maar zoals bij het online pakketjes bestellen, is bij mij deze online-coach nooit goed terechtgekomen.
In januari waren we op vakantie waar ik steeds een trap van 51 treden en nog enkele kleinere trappen op en af moest om naar het zwembad en restaurant en weer terug naar onze hotelkamer te gaan. Halverwege moest ik stoppen om op adem te komen. Alle vijfenzestig plussers liepen me kwiek voorbij. (Degenen die er net zo erg aan toe waren als ik gingen met de lift, ontdekte ik later. Maar dat vertikte ik).
Ik schaamde me diep en op dag 2 lag ik al volop mee te doen met aqua gym. Gelukkig was het water 'reuma-proof.' Stond ik daar in het warme water tussen drie bejaarde badmutsen. En aangezien ik mijn bril niet ophad moest ik redelijk vooraan gaan staan anders zag ik niet wat de instructeur uitbeeldde. Ik veroorzaakte een waar golfslagbad met dat gespring.
Terug thuis heb ik me verdiept in 'GOKken'. Grip op Koolhydraten. Ik eet al acht weken gebakken eieren bij het ontbijt; sla met vis of kip als lunch (keurig zelf klaargemaakt en in een koelboxje mee naar het werk) en 's avonds een uur waarin koolhydraten genuttigd mogen worden. Dus aardappelen/pasta/rijst met groente en vlees/kip/vis. Maar dan ook mijn dagelijkse fruit en eventueel yoghurt. En water, liters water.
Half januari ben ik een stapje verder gegaan en heb ik me aangemeld bij een Sport & Slankstudio. Onder begeleiding de Milon cirkel afwerken (3 x per week 35 minuten toestellen) en eetadvies. De eerste trainingen bevielen goed, de bodycheck wat minder…. als ik niet snel in gang schiet ik kan mijn eigen memoires gaan schrijven. Maar ik kan niet anders zeggen dan dat de coaches van Sport&Slankstudio Essen motiverend zijn en een goede begeleiding bieden. Met valentijn kregen we zelfs een rode roos omdat we zo lief voor ons lichaam zijn!
Ik GOK erop dat ik in dit jaar toch wel 12 blogs mag schrijven en ook 12 kg af kan vallen. Zoals het er nu naar uitziet gaat dat lukken want ik ben best wel trots dat ik kan melden dat er 7 kg af is.
Social tagging:
afvallen
>
grip op koolhydraten
>
miloncirckel
>
Sport&Slankstudio Essen