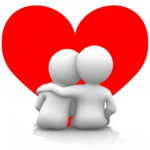 Vandaag ging ik weer naar mijn geliefde stad Den Haag voor een les aan de schrijfacademie. De module die op het lesrooster staat is Dialogen en Personages. Aangezien het Valentijnsdag is, verwacht ik min of meer wel een opdracht om een liefdesbrief te schrijven of anders op zijn minst, een dialoog tussen twee geliefden. Maar niets was minder waar.
Onze docente deelde foto's uit van personen die zich in een conflictsituatie bevonden. De opdracht was om met een medecursist samen te kijken wat de relatie van de twee afgebeelde personen was, en te bedenken waar de ruzie over ging. Daarna moesten we kiezen welke persoon we wilden zijn en gingen we ons via freewriting inleven in deze persoon.
Vervolgens schreef je weer samen met je medecursist een dialoog tussen deze twee fotofiguren vanuit je inlevingsoefening. Ik was zo slim om het conflict te starten door als eerste de openingszin op te schrijven. Het was zo leuk om iets te schrijven en te kijken wat de ander terug ging schrijven. Na deze opdracht mochten we het voordragen. Nou, ik kan jullie verzekeren dat het een enerverende les was. De gemoederen liepen hoog op, menig aankomend auteur bleek ook een zeer inlevend toneeltalent.
Toch blijft de liefdesverklaring aan mijn knagen en daarom hier nog een hersenspinsel
Ode aan Valentijn 
Vandaag is het Valentijn
en breng ik een ode aan de natuur
aan de vogels in de lucht
aan de nabestaanden van de MH17 vlucht
Ach  mijn liefste Valentijn
Dag van de Liefde maar ook van pijn
verdriet om wie er niet meer is
van mensen die eenzaam zijn
Laat ons daarom vandaag de liefde vieren
met een simpel gebaar
Gewoon wat aandacht voor elkaar
want dat is Valentijn
in mijn gedacht
Of had u stiekem toch een cadeau verwacht