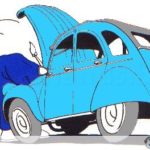 Afgelopen week ging ik voor de eerste keer met mijn geliefde cabriootje naar de autokeuring in Brasschaat (St. Job). Zo'n tien jaar gelden was ik daar ook al eens geweest met de auto van Gérard. Toen had ik me al als dom blondje gedragen omdat ik maar niet snapte wat de hard roepende medewerker bedoelde met "Phares, Phares!"
Het bleek dat ik mijn autolampen aan en uit moest zetten. Enfin, met deze herinneringen in mijn achterhoofd en de lange, lange wachtrij destijds, had ik dit keer een afspraak gemaakt om 16.00 uur in de middag.
De rij met wachtende auto's naast mij ging net zo snel als mijn afspraken-rij.  Ik maakte me er niet druk om en keek naar mannen van de keuring die bedrijvig heen en weer liepen (het zag er vrij oneconomisch uit) maar met een gezicht…. De werkvreugde was ver te zoeken. Toen ik als eerste bij de streep aankwam had ik al mijn veiligheidsgordels al vastgemaakt en de benodigde papieren gereed. Ik had ook het dak maar dichtgedaan want het zou me niks verbazen dat ze hem zouden afkeuren omdat er geen dak op zat.
De vrij jonge bediende (zo noemen ze dat in België) kwam op mijn auto afgelopen en mompelde iets tegen me dat ik niet verstond, zo plat Antwerps. Ik vroeg beleefd "wat zegt u?", en weer kon ik er niks van bakken. Dat ging nog een paar keer zo en ik had me al de rol van dom blondje aangemeten. "Sorry meneer ik begrijp niet wat u bedoeld, ik kom hier voor de eerste keer", uiteindelijk ging het om een blauw papier van Peugeot dat bij mijn autopapieren zat.
Hij stapte in mijn wagentje knalde de deur dicht en gaf zo'n stoot gas dat ik dacht dat hij op ging stijgen. Hij spoot naar voren en trapte zo hard op de rem dat de kont van mijn cabrio de lucht in vloog en toen kwam hij met zijn wielen op één of ander Zumba apparaat waarbij de auto zo begon te schudden dat banden naast de velgen schoven. Ik kon het bijna niet meer aanzien. Mijn auto werd zwaar mishandeld. En zeker ten opzichte van alle zwarte auto's die binnen stonden. Op een gegeven moment hoorde ik mijn keuringsmeester zwaar vloeken en tieren en met zijn handen op mijn stuur slaan. Ik weet niet of Witje iets verkeerds gedaan heeft tegen de keuringsmeester maar het heeft vast geholpen. Hij stapte uit en droeg de auto over aan iemand anders. Die ging er normaal mee om. 57,50 Euro armer was Witje dan toch goedgekeurd. Volgend jaar stuur ik Gérard want ik kan het niet aanzien dat mijn dierbare cabriootje zo mishandeld werd.